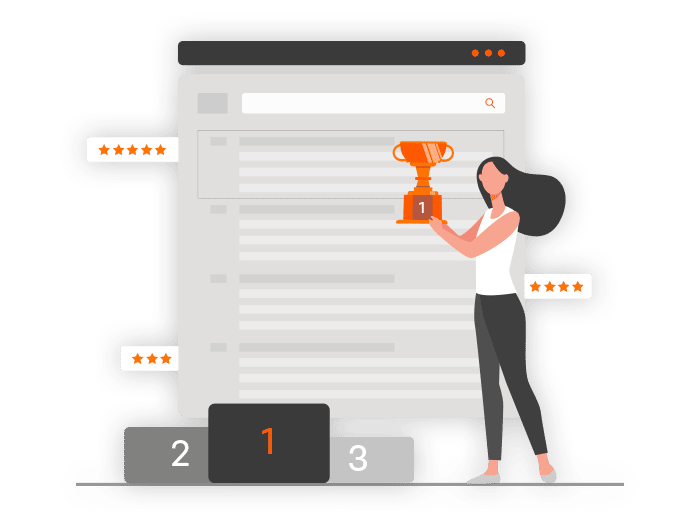 Not Ranking On Google is more than having the best-designed blog. But you might notice that it is not ranking well on Google. Do you know the reasons why and how to fix the problems?
Here are the top root causes that are killing your ranking:
duplicate content
Absence of Google My Business Page: https://business.google.com/
Low rates of social signals
Not consistent content
not mobile friendly
Not indexed site
So, how do you fix these issues? Here is what you need to know
Not Ranking: Fixing Duplicate Content
This implies that the original version of your page will rank better.
The identical material has been copied and pasted on other websites. Duplicate content occurs when you upload the same item more than once. Duplicate material is created when you replicate someone else's work or when they publish yours.
As a result, search engines may struggle to determine what content is significant. People utilize search engines to find the information they want. Google and other search engines may disregard previously discovered material.
A lot of the same things aren't always a bad thing. Google defines duplicate content as material that is the same or "considerably identical" across websites. Store item descriptions and web pages that can only be printed demonstrate unintentional duplication.
Another issue related to not ranking arises when things are repeated. It may be aggravating for users when the same material is utilized on several domains to increase traffic or modify how search engines rank them. Search engines work hard to prevent this from happening.
To find out if a phrase has already been used, copy the first ten words of a sentence and place them in quote marks in Google. This strategy is recommended by Google.
You should only see your own page if you do this for a website page.
If other sites appear next to yours, Google may believe they are the source of the content. If this isn't the case, duplicating material can be an issue.
Look up some of the words on your website using a search engine.
When you write, you may unintentionally replicate someone else's work. Use a plagiarism checker to ensure that your content is unique before posting it anyplace else online. Many of them are free of charge.
Not Ranking: Problem on Google My Business page
This is a quick and simple approach to climbing Google's ranks. Google My Business can help you advertise your company.  It is possible to improve the visibility of your local company on Google.
When a user conducts a search, Google Places displays companies in their vicinity. It appears at the top of mobile listings and on the right side of local search results on desktops.
Local companies may be able to reach more people by optimizing for Google My Business and Google Maps.
SEO tactics help a website climb the ranks of Google's search results. A cemetery might appear on Google's second page.
The same criteria apply to Google Maps Pack for neighboring companies as they do to Google My Business. These are great traffic generators if your company is at the top of the search results.
To use Google's local company listing optimization, you don't need to know anything about SEO.
The higher your level, the better you are. More individuals will begin to trust you as your company expands.
A website is not required to create a Google My Business account or to list your business on Google Maps. Having a website for your business is beneficial in the long term.
If you want your business to appear on Google Maps, you must consider Google My Business SEO and Google Places ranking considerations. Use the information in this post to improve the visibility of your local business's Google Maps listing.
Determining the Google Map Ranking
The location of a map in Google Maps influences how relevant it is to a search query. There are two factors that may influence how Google Maps assesses your business. Here are a few examples:
Visibility
Your level of trustworthiness has a direct impact on whether or not your business appears in the Google Maps Pack.
Several factors can influence your business's visibility on Google Maps. Influencers, websites, and social media tags are examples of these. If you have links from local directories, you may rank better in the Google Maps Pack.
Reviews
When ranking local companies, Google considers good ratings. Positive online reviews will increase your company's credibility, sales, and profitability.
If a website does well in search engine results, it may attract more visitors.
The same is true for your company's Google Maps rating, which will improve traffic and revenue. A Google Maps listing for your company makes it easier for customers to locate you online.
In order to increase organic traffic and sales, your store's Google Maps page provides instructions to your location.
Not Ranking: Social signals rate
In this scenario, it is optional to use social media or not. But in reality, most businesses cannot exclude this from their marketing strategy.
Social signals include websites such as Facebook, Twitter, LinkedIn, Reddit, and Medium. Likes, dislikes, shares, votes, pins, views, and other social signals all indicate how popular and well-liked a piece of material is.
Social media operations, like SEO, can be handled in-house or by a third party. You must have both of these elements and work on them in order to have an effective social media strategy. Onsite elements include:
Share buttons (like, recommend, tweet, bookmark, etc.)
Connect buttons (Like a Facebook page, Follow on Twitter, Follow on LinkedIn, etc.
Offsite elements include:
Facebook page
Twitter account
LinkedIn company page
Pinterest account
Youtube account
Guest blog posting
Other social media platforms
Not Ranking: You need more consistent content
You will rise in the rankings if you continue to create fresh material.
Blogs must be updated on a frequent basis for content marketing to be effective. Even tiny companies with limited resources can create high-quality content that ranks well in search results and attracts visitors who convert into leads. According to HubSpot, when marketers write, their ROI generally increases by 13 times.
Do people still read blogs in this day and age of videos and social media? Absolutely. Starting a blog is one of the simplest methods to get started with content marketing. Even large corporations that have been in operation for a long time may benefit from having a blog.
Regular blog articles drive traffic to a website and aid in brand recognition. Blog updates are beneficial for generating new leads. Google will provide a better search engine rank to a blog that is good and updated often.
When a firm has a blog, customers perceive it to have a personality and a voice. Who has the most power is revealed through information. People will read your material if it is entertaining and beneficial.
Here are some pointers to help you run a lucrative blog on a shoestring budget:
You should stick to your editing strategy.
Make an editing schedule and stick to it to get started. Preparation is essential for a stress-free content marketing approach.
Plan out your blog entries for the next three months all at once. Use project management software or calendar reminders to keep track of who is accountable for what.
If you spend too much time looking at a computer screen, it's time to outsource your work. Even if you have plenty of time, you could not be particularly good at writing.
It would be too risky for business owners to manage everything alone. If you work too much, you may become overburdened, perform poorly, and become a bottleneck for your firm. You're not the only one who has ever pondered how you came to be in control.
Blogging, like accounting and bookkeeping, is an excellent profession to outsource. Blog entries may be created from ideas and brain dumps refined by competent authors.
Not Ranking: Is your website mobile friendly
Begin by employing Google's Mobile-Friendly Test Tool. Quickly and simply determine how mobile-friendly a website is (redirects will be followed).
launch the Mobile-Friendly Test Tool.
You only need to copy and paste your URL. To test a URL, click on it. A website review should not take more than a minute.
An unloadable resources warning indicates that your URL contains external objects that mobile devices and Google's mobile-friendliness test cannot access. style sheets, graphics, or scripts. You may want to contact your web designer to help you out.
Not Ranking: Indexing your website
Use the proper Search Console settings [Not Ranking in Google], and ensure that your website's coding does not prevent crawlers from reaching it. Here are some reasons why your site is not indexed.
Google hasn't found your blog or site yet
Google operates mostly through automation and technology. Robots are prone to making mistakes. Google has not yet identified an issue with your website; the evaluation is still ongoing. Google takes some time to locate new sites, so they may not appear immediately. There are about two billion web pages on the internet.
Your site has been removed from Google
Google despises SEO tactics that do not adhere to the regulations. If a website violates the law or the guidelines, Google may remove it from the list. Pages that were previously indexed are removed from search results through deindexing. Google may eliminate your site from its search results if it contains spam, too many keywords, or unreadable material. It's difficult to return to search results after being removed from them.
If you violate Google's regulations, you will be penalised and your position on the search engine results page will be lost. If you want to learn more, check out this blog post: Using "black hat" SEO practices, such as link purchasing, might get you in hot water. Your site was reindexed if you utilized unethical SEO tactics. As a result, you should engage an SEO company.
How to Get Your Website Indexed by Google
Website owners were concerned about the speed with which Googlebot crawled their sites. Site owners can use a Google tool to request that Google index their websites. You must have a Google Search Console account. You may give Google a sitemap or a single URL after you have an account. The "URL inspection" function of Google Search Console displays a list of specific URLs.
After submitting the form, your website should adhere to the Google Webmaster Guidelines. These tips may assist website owners in determining what SEO methods Google is looking for. Remember the black hat approaches we discussed. Contact Google to find out why your website hasn't been indexed.
How Long Does it Take to Get Indexed?
Google anticipates that the entire procedure will take four weeks. It is critical to have solid content and backlinks at this time. Googlebot takes a variable length of time to crawl each site.
As soon as your website is live, provide a sitemap. You can get a new website or blog post up and running as fast as possible by employing URL inspection. The new page will not be indexed for roughly two days after we do this.
Not Ranking: Fixing slow-loading website
Few things are worse than conducting an Internet search, receiving excellent results, and then opting not to act on them.
Sites that load quickly do higher in search engine rankings.
This issue typically affects small company owners, bloggers, and website creators. People are curious as to why a social network, blog, or internet company takes so long to load.
If your website is sluggish, it is likely not ranking well, you need to fix it immediately to survive.
Discover why your website takes so long to load and what you can do to improve its performance.
It's terrible when websites take forever to load. So, why do you believe your company requires a website that loads quickly? When a website takes too long to load, it irritates more than just the users.
When ranking search results, Google considers how effectively a WordPress site operates. Google strives to provide the greatest possible experience for its users, which includes ensuring that its websites are speedy and simple to use.
People will spend more time on your website if it loads swiftly. Conversions increase when the bounce rate decreases. Every visitor to your website is a potential customer.
Verdict
Many other people who desire to start their own business, like you, have struggled to get past page 10.
If you just have a desktop version, disable Google, or if your site takes too long to load, your search engine rankings will suffer.
If you solve these issues, you'll swiftly rise through the ranks, resolving your "Not Ranking in Google" problem.
If you are unhappy with the current ranking, what action do you take in response?
LEARN MORE: HOW TO RANK YOUR BLOG POST HIGH IN GOOGLE SEARCH