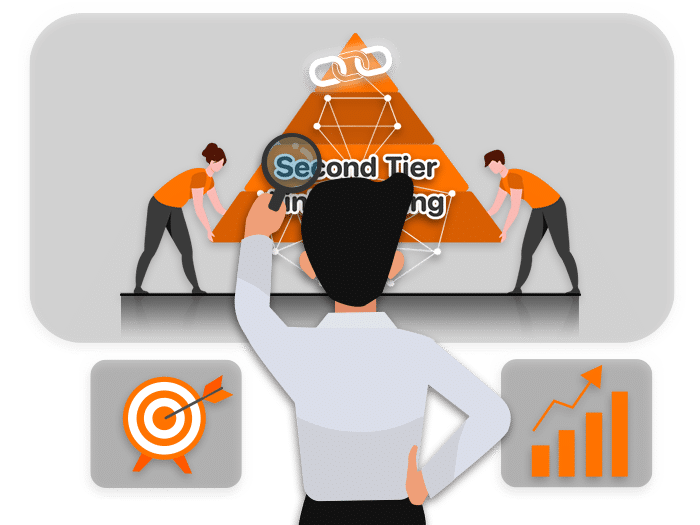 The Significant SEO Strategy that You Might Often Forget – Second-Tier Link Building
Tier 2 link building is an effective SEO approach. Because Google's algorithms are always changing, certain website links may look strange. When used correctly, this strategy may be highly effective.
A well-placed link to your website may improve traffic and attention. It doesn't matter if you're marketing a service, a product, a person, or something else.
Visitors to your site are likely to see a post about it or one you recommended as a place to visit. Second tier link building can be the first thing to pay attention to because you will be able to engage with your audiences from it.
What is second-tier link building?
Tiered link building involves the creation of backlinks to other hyperlinks. You may boost your website's authority and PageRank by creating a huge number of links that all go to your domain. Tiering requires building backlinks to supplement the ones you already have. The goal is for visitors to connect back to your main website. On the first layer, creating these backlinks is straightforward.
It could happen naturally when someone else's website refers to yours. The second tier is made up of outside links that lead to content that has a connection to the first tier. These links send authority and traffic to the source of high-quality content. If you come up with fresh ideas with Google, your tiered link-building strategies may last into the next year. By employing the resources of other websites, tiered link building increases the target site's link profile.
A tiered connection may require some time and money to set it together. Tiered link building is a rapid way to boost a page's rating, but it annoys Google. Black-hat SEO uses tiered link building to influence backlinks and search engine rankings. The attempts of Google to eradicate "black-hat" SEO have hurt tiered link building. While SEO may be done without links, most experts believe that they are necessary.
Link building is an important SEO strategy, but simple methods aren't always enough to get the results you want or avoid penalties. Tiered backlinking is the practice of getting lower-quality, easier-to-obtain links in order to boost Page Authority. External content, link placement, link sources, and other aspects must all be examined to ensure the effectiveness of your link-building activities. Linking to first-tier links is a good approach for improving second-tier link building performance.
Why should you use second-tier links?
What is the significance of traffic in SEO? Setting up second-tier connections boosts both traffic and SEO. Google ranks websites based on how many visitors they receive. Google ranks websites based on the amount of traffic they receive and the amount of traffic they lose. Search engines utilize secondary links to determine:
Authority
Who you know is more important than what you know. Your reputation improves when you write a guest blog post for a respectable site, but it also improves when you acquire a link from a renowned site (the true organic way to earn links and always the best).
Relevance
Google prefers relevance. Think about the terminology you use on your website. Google and other search engines analyze links to identify what your website is about. When your website is linked to others in your business, Google acknowledges its relevance.
These elements boost SEO. It isn't the primary goal, but it helps with the ranking process.
When should you build Tier 2 Links?
Ideally, tier 2 links are built to backlinks that have lower page authority. But that's not the end of the premise. These pages should dwell in the high-level authority of a domain. For instance, it is not feasible to build tier 2 links to a DR20 website. In a nutshell, the tier 2 links are perfect to update the existing links.
Therefore, if you have done your homework with your website On-page SEO, then you are ready to build your tier 2 links.
Preserving the value of tier 2 links
Make sure there aren't too many links leading away from the page. When there are more connections flowing out, less traffic is directed to the target URL. Take caution not to imitate what others do.
Anchor text in tier 2 links
Google just considers the number of links pointing to your money site. The anchor text can be managed at random. When it comes to links in Tier 2, link strength should take precedence over relevancy. But it is not wrong to pay attention to anchor text. After all, relevancy does matter in link building.
How to do second-tier links?
A website may or may not receive the same amount of backlinks as another. The majority of them are negative. According to one SEO approach, this isn't even essential.
Second-level links need less effort. At least one link to the second level should be included in high-quality guest posts. Secondary backlink sources include PBNs, article directories, profile links, social bookmarking sites, and web 2.0 comments. If the connections are in the correct sequence and context exists.
One or two backlinks from the second level to backlinks from the first level is the ideal quantity. Each source, context, and anchor text must be unique.
Social media sharing
In any niche, social media and link development are co-existing. Marketers, regardless of their frequency, must combine both of these businesses. You may miss out on different chances if you do not use social media for connection growth.
Use social media sites such as Twitter, Facebook, and Instagram to humanize your company. What can you do to create relationships with individuals in your network?
Connect with Other Brands and Bloggers
Provide links to specialized websites to increase traffic to your social media presence.
It's no secret that social media is popular among companies and bloggers. As a consequence, guest posts, content mentions, and content swaps are all viable options.
Join Blogger / Creators Groups
When it comes to creating a social media network, niche-specific blogger communities and hashtags can be excellent tools. Thousands of marketers have joined a valuable community. This method is excellent for connecting and creating relationships on social networking.
By evaluating the questions people ask in these groups, you may rapidly learn about a person's specialty and assess their backlink potential.
Joining blogger groups expands your network while also presenting you with a chance of connecting with other brands and bloggers. To employ this strategy, you must search for appropriate groups on a range of social networking networks. You should look for link-building chances on your own.
Connect with Journalists and Influencers
The majority of link builders contact journalists and influencers using "cold email." This frequently means developing new relationships. To get the most out of this strategy, you must first get to know the other person. Twitter and LinkedIn may be useful in this instance.
Establish good rapport with journalists and industry leaders in order to create a network of connections.
Journalists are usually interested in hearing stories, viewpoints, and observations. If you make insightful insights or comments, you will almost surely be highlighted and linked.
Use Twitter Hashtags
Twitter users communicate via hashtags. The usage of hashtags enables the creation of social media linkages as well as journalistic outreach.
Journalists, corporations, and bloggers use the hashtags #PRrequests, #journorequest, and #bloggerrequest to request information.
Tweets with hashtags can be contacted directly. Making relationships is achievable through delivering relevant information.
This method can assist you in developing long-term connections with journalists.
Leveraging Pinterest
You might be able to increase your company's visibility on Pinterest if you create appealing images and infographics.
This social networking platform is excellent for generating both referral traffic and natural connections. Using eye-catching images and infographics on your website increases the likelihood that your material will be shared.
It is conceivable that your work will appear on "Pinterest's finest" pins (e.g. 10 Most-Pinned Home Products). If your image is used without proper attribution, you have the right to request a link back to the original source.
Guest Blogging
The process of marketing oneself is at the heart of personal branding. In its most basic form, it is a compilation of the information, abilities, and characteristics of personality that you desire to be associated with your company. It enables you to differentiate yourself from the other businesses in your industry and establish yourself as an authority in the sector.Through the use of guest blogging, what steps can you take to create your brand and reputation as a thought leader in your industry? Here are three tips for second tiered link building through guest posts without coming out as a pushy link builder.
Creating and managing author profile
Creating an author profile is a must for contributing content to another website in the form of guest posts. This is a privilege; it is not a need in any way. How can you differentiate yourself from the other companies in the market? Include your full name as well as a photo of yourself to facilitate the creation of a friendlier profile and increased recognition of your business. Your author profile will contain connections to your website, social media profiles, and guest pieces that you have written for other websites. Utilizing these strategies may result in an increase in the volume of visits to a website as well as its exposure to the internet.
Link Back To Your Page
You are able to employ hyperlinks in a guest post without drawing too much attention to the fact that you are doing so. If a link to a landing page or a sales pitch is deemed absolutely necessary, permission to include it will always be granted. There is the potential for you to find helpful internet material that complements your guest post by utilizing no-follow links. By letting your audience browse your platform and the additional materials you provide, you build both your reputation and your credibility.
Choose Your Topics Wisely
Using these strategies, you may be able to assist readers in making the connection between the content they are reading and your business. If you want to use guest posting to develop your own brand, consistency is the most important factor to consider. First, zero down on what you want to do specifically, and then develop your own signature style. If the company writes in several styles or publishes blogs on a wide array of topics, the voice of the brand may be watered down. You won't differentiate yourself from the other people in the throng, and your readers won't want to come back.
Verdict
Before your efforts with second-tiered link building start to pay off, you'll need to put in a lot of work. If your work is rejected the first time you submit it, consider submitting it again with better writing or a different focus on the subject matter. It is preferable to send follow-up emails rather than not follow up at all. Your plan for using guest bloggers will benefit from our recommendations, so please be patient. After you have finished this course, you will have the ability to generate guest articles of a high quality, which will assist you in growing your business.
An important aspect of search engine optimization (SEO) is a website's link profile. Backlinks aren't as important to Google as the overall user experience.
You may be able to build high-quality links by using blogging, social networking, search engine optimization, and several other marketing tactics. The challenge is not in creating relationships; rather, it is in developing connections that are authentic and of high quality. From the viewpoint of customers, quality has superseded quantity as the most important factor. If you stick to the tried-and-true ways of link building, you'll be well on your way to achieving success.