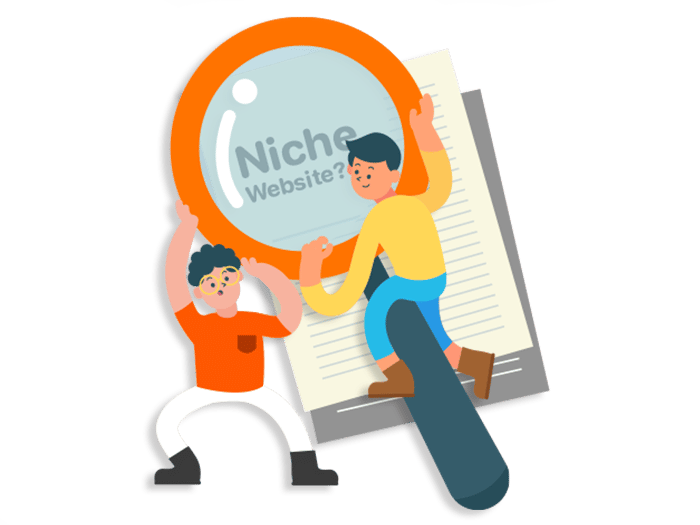 Where could I find a niche website? You must have heard a lot about niche websites. They are simple and easy to set up and could give you faster results than most website designs out there. But, how do you find a niche website? Here are some things that could help you differentiate a niche website from other complex websites.
A Niche Website Specifically Targets for A Few Long Tail Keywords.
The most common characteristic of niche websites is that they would have the targeted keywords in the domain name. Niche sites have a design specifically to draw in the searches of target keywords on search engines.
The relativity between the target keywords and the whole content should be strong enough so that the search engines would recognize the site almost immediately. This would make the website appear in the upper list of search engines, hence, a bigger chance to generate traffic.
Suggested tools to aid in your research in selecting a niche and monitoring the performance of your niche sites:
You can also test it by looking up the long tail keywords. First, you use search engine optimization to look up the main keyword, and then the long tail keywords. If the website is continuously appearing in the search results, then it is most probably a niche website.
Velocity in Simplicity
Compared to the other types of commercial websites, niche sites can't produce as much profit as they do. But what can they offer so that people were aiming to make such a website? The first thing you should know is that niche sites focus on a narrow topic with almost no subtopics. Because of that, websites that use niches are very fast in the making.
You just have to make several pages and load them with the content that you can order from content marketing services. Even though they are quite simple, but still, the money you can get from the cost per click and keyword ads are real. If you can accumulate enough running websites, then it would be possible to get a stable income from them.
Because of the quick return, niche websites are simply too good for people who are targeting current trends as their niche. Choosing the right niches could make you have a stable income from those websites for quite a long time. Different from complex websites you have to make lots of preparations before you can earn money in a considerable amount. You need to spend more resources to build a complex website, and you have to fill it with wider content.
Because of the wide coverage, it would be easy to find suitable content, but you would need much longer preparation time instead. A wrong step and you would end up in a tight spot on resources without a dependable income. But in the long run, a complex website could give you much profitable income.
How Do People Work With It?
Just before the updates on search engines like Google, niche sites used to be a sweet spot for web developers. They would just create several niche websites and get some money from the CPC and keyword ads. Because of their compact form and strong relativity to the target keywords, of course, they would appear in the upper search results. The compact design and small maintenance cost could be covered just by the advertisements' income. Then, they build more small websites to get more income.
However, since Google and other search engines have updates, such methods won't bring the niche sites to the upper ranks. There goes a little adaptation to the strategy. Now, web developers who have already owned niche websites are adding more complexity to them. The already profitable niche sites would be dropping in rank if the contents are too simple. Then, adding more content could be done fast using article marketing services.
With the content improving, those simple websites could once again rise in the rankings and make more money. The strategy that once was quantity over quality, is now quality over quantity. The developers would drop the ones they have which have less engagement and focus on the ones with rising engagement rates. This makes the operational cost even more focused and more effective. Since they already have a niche for each website, adding more content is not that much of a problem to deal with.
Should I Also Take This Path?
Niche websites are a good tool to test the market as well as your web developing skills. They are not much of work yet they can give you immediate profit while having a test run. If you are looking for opportunities to work in this field, this is the best way to find out your chances. You don't need that much time for preparations and you could now get the results immediately. Most importantly, you will have a source of income amidst your spending to invest in this business.
Do you already have several things which you want to choose your niches? You would need to do keyword research as well as other researches which could affect your niche in the future. Once you've decided on the niche for your website, the next steps would follow faster than you thought they would.
Whether you are new to niche websites or developing your potential websites, you would still need to create the content. Creating content is the most important part to get your place in the SEO rankings. Make sure you create the right and appropriate content for your websites, or you can just hire professionals. With all those preparations in hand, you just need to start building your website anytime. That was all you need to know about a niche website.
Although it is becoming more complicated in making profitable ones, it is still possible. With the proper knowledge and preparations, you too would be able to make profitable websites. Get your content only from trusted sources because they could help you improve your rankings in search engine results. Think carefully before choosing a specific niche, because once you are settled, you would need to redo everything from scratch if you want to change into another.