Simple Online Marketing Strategy to Outperform Your Competition
Internet marketing is a rapidly expanding industry. To outperform the competition, you must have a solid foundation, critical thinking, independence, and originality. If you follow this online marketing strategy, you will be able to succeed in a competitive market.
There are several online marketing strategies to pick from. We believed that experts required a manual that begins at the outset and provides strategy and tactics recommendations.
Is This guide for me?
This post covers all you need to know about online marketing strategies, from getting started to managing a blog to deeper topics.
We hope that after reading this, you will feel more confident about your online marketing strategy. So, without further ado, let's dig into the practices you can try.
Be Laser Focused on Your Customers
Customers, future customers, and business partners are the lifeblood of the organization. They should be the focal point of your marketing strategy.
With a large audience, it may be difficult to determine what customers desire at the start of the online marketing process. Here are two important things that you should keep in mind:   1) interact with a big number of consumers and 2) create customer value propositions that will enhance your ROI.
It is becoming increasingly difficult for both small and large enterprises to stand out in the digital world. It may appear tough to acquire and retain clients if a company does not have an online presence. Smart businesses employ content to attract new consumers and keep them returning for more. They accomplish this through thought leadership, a business-to-business (B2B) strategy, and engaging content, among other things. People who utilize the Internet to obtain knowledge, whether original or sourced elsewhere, may become devoted consumers (and appropriately referenced).
It's trickier than it appears. Because they do not have enough personnel, small firms have limited time and money. Medium- and large-sized firms operating on a local, national, or global scale encounter a diverse set of difficulties from diverse stakeholders. Creating fresh material is a time-consuming and tough endeavor. How can a business begin a content marketing strategy?
Because the online media market is so large and competitive, every company must spend on content. You can ensure that your company's content reaches the proper audience by employing these tactics.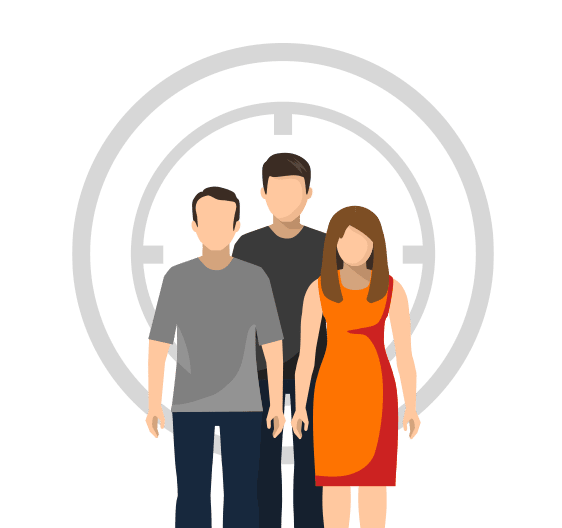 To create strong content, your company must have a thorough understanding of the individuals it wishes to target. Understanding your audience is essential if you want to publish material that is relevant to them and make wise decisions about how to maintain their attention on your message.
Use your company's confidential sales information to discover more about your present and future customers. You could learn about demographics, media platforms, and purchasing behaviors. If your company has many divisions, prioritize the ones that will bring in the most clients.
This makes things difficult for small enterprises. Client insights and data on a small scale may be too expensive or difficult to get. Google Analytics and other free tools may be able to inform you about the gender, age, geography, and interests of your website visitors (broken out by categories like food & drink, sports, computers & electronics, travel, etc.). By combining these data sets with information from eMarketer or TrendWatching.com, you may determine which channels your target audience utilizes.
Large and medium-sized organizations may now obtain more data than before.
Accessing a diverse range of clientele is more difficult for larger firms. You could choose to delegate your content strategy to one individual so that you can develop a comprehensive plan.
Define and Plan Your Online Marketing Strategy
People who aren't skilled at marketing can benefit from advertising. Growth models demonstrate how to be an effective marketer. If you know how your method of online marketing might become a reliable source of income.
It's past time to cease emphasizing brands so much. Metrics might assist you in making more money.
A marketing strategy that works for everyone is a lousy concept for a variety of reasons.
Every firm has unique online marketing strategy requirements.
When developing an online marketing strategy, you should prioritize a few key attributes and talents.
Building a sturdy foundation will be more expensive and time-consuming.
There are so many factors that influence the components and implementation of a marketing framework that it would be counterproductive to apply the same template for every organization. You may look at many different sorts of frameworks before creating your own.
Tell the Audience Your Story
The choice to spend money is influenced by both thought and emotion. Both are required for marketing to be successful.
Storytelling is a great method to connect with your consumers. This class will show you how to communicate the story of your company.
Since the dawn of time, humans have been telling stories. Anecdotes are the most efficient way for humans to transmit information. Great leaders, entrepreneurs, and public presenters all have effective story-telling talents. Why? Great firms can share their stories in a way that is both compelling and transparent.
Customers are connected to brands in a number of ways. The majority of individuals have forgotten about a 99-cent grocery store sale or a single transaction many hours after they first saw it. Branded advertising is more successful when it is authentic. These tales are captivating because they are simple to recall and remember. A customer's buying choice is influenced by a company's brand narrative. Your brand's narrative should go beyond the "you buy, we sell" concept in order to engage with your customers on a more personal level.
Put pen to paper and make a rough sketch of your life's path. To explain your company's narrative, start with the founder and their motives for starting the business. From the outset, treat this article as though it were a historical account. In your letter, include tales, fascinating facts, and proof of the organization's effectiveness. To be effective, a brand narrative must integrate the organization's mission and vision. Understanding your origins and goals is a fantastic place to start. Step 2: Emphasize your company's purpose statement.
Determine the core principles and mission of your company. Have some fun and display the outside world of your brand's message in a unique way. Customers, stakeholders, and the company's overarching goal are all taken into account while creating a brand statement. It's a manner of thinking about the future that goes beyond financial issues. What is the purpose of our being here? The doing of good actions is our raison d'être. After you've answered the following questions, you'll be able to locate your thesis.
Make it into a tale. To verify the statement made in step two, you will write a one-page paper. The past and future of a corporation should be depicted in brand narratives. Authenticity is the foundation of a successful brand story. If you try to deceive your customers, you will be punished. A compelling brand story achieves a certain aim. The purpose of your tale is to captivate readers. The reader is encouraged to contribute by using a conversational tone. It ought to be a tale about your innermost feelings and ideas.
Connect with Audience through Effective Content Marketing
Content marketing is not the same as writing a blog article. Articles, tutorials, and videos are all examples of material that may help your business flourish.
Make a name for yourself as a trustworthy and excellent person. Also, be sure you're obtaining the information you need. Content that is practical Examine the outcomes. A guidebook for operation.
Customers are the foundation of every company. It's crucial in today's marketing environment. If you want to create a long-term relationship with your audience and improve consumer loyalty, you'll need a smart content marketing approach. Content marketing is a typical approach in digital marketing to acquire new clients. Paid search gets three times the amount of leads as content marketing. 42% of businesses have a content strategist on staff.
This implies that you should pay attention to both potential new consumers and current customers.
You need to know what your consumers desire before you can create a content strategy. What exactly is the problem? What they're up to at the moment One approach to make them fall in love with you is to talk to them. Soliciting feedback is a viable method.
If you get to know your consumers, you'll be able to better meet their demands. This is something you may use to produce content for your website, emails, and social media outlets. Increase your sales and ROI by creating content that appeals to your target audience.
Paid Advertising Can Help You Out
Pay-per-click (PPC) advertising is quite popular. The terms search engine marketing, internet advertising, and pay-per-click marketing are all interchangeable.
Advertisers use both phrases to describe internet advertising traffic. This time-consuming and expensive online marketing strategy is frequently avoided by marketers. Your health will suffer as a result of this.
Budgets for PPC are typically unrestricted. Why? Because you need to make a return on your investment.
Manage the Incremental Sales by Joining Affiliate Programs
The Internet has existed for quite some time. Web marketing was the beginning of affiliate marketing.
Companies that are risk-averse or short on cash might consider this alternative. Affiliate marketing may increase e-commerce and B2B revenue.
If you hadn't participated in a given action, you wouldn't have received this amount of money. People who were previously disinterested in a company's products and services.
A successful affiliate program relies on a variety of publications. After that, you may optimize and compensate your personnel. Recruiting new writers to collaborate with, developing content, making offers and sales copy, adding text links and banner ads, and building training materials are all part of this.
B2B, travel, and SaaS affiliate programs may benefit from offering APIs or custom widgets for publications, merging data streams, and building white-label landing sites.
Improve Online Visibility with SEO
People can find new clients more easily thanks to search engines. Google search and Bing are constantly searching for ways to improve their services for their consumers.
Your website should feature the most up-to-date information and offers. To achieve a high position, you must inform search engines about how visitors interact with your site.
SEO is a highly competitive industry. As a starting point, use these instructions.
Work with your Social Media Strategist
Your social media strategy extends beyond Twitter and Facebook. Social media, in the proper hands, may help clients communicate with one another and drive more traffic to a website.
It's all too tempting to get caught up in the hype and sign up for every social networking site you can think of. That is not the case. Use simply a few key methods to spread the word about your company. In this post, we will discuss decision-making.
Choose which social media networks you wish to utilize before you begin. When do you want to take social media more seriously? It's better not to begin than to create an account, post four times, and then lose interest.
Depending on the company's size, the social media manager (or team) should also collaborate with the marketing team or external marketing companies to integrate the social media strategy into the overall marketing plan. Investigating your competition will teach you more about the market as a whole. As a consequence, you will stand out from the competition. Before you join LinkedIn, make sure you understand what your rivals are doing.
Your social media strategy should be founded on your objectives and the platforms that will assist you in achieving them.
Now is an excellent opportunity to consider the months and years ahead. Any product or production manager may devise innovative social initiatives that can be implemented quickly.
Creating a social media plan takes more time and effort than may appear at first. Your next mini-launch will go more smoothly if you prepare beforehand.
Each calendar entry should be signed by both the author and a proofreader, if feasible. Typos are simple to remove. This post will discuss how to build up a social networking approval procedure for the entire firm.
If you've planned well, launch day is an excellent moment to put your ideas into action and see how things go. If you keep refreshing until your wrists pain, your brand will thrive.
Verdict
Thank you for reading, and we wish you success with your web marketing endeavors.
If you want SEO assistance, we are here to assist you.
If you work in digital marketing and want to create your own online business, don't hesitate to reach us for inquiries and questions.