You must make a strong impression on people in order for your business to prosper. Consumer awareness of your brand has always been important, but it is more important now than ever. This is the scenario as a result of the increase in online purchasing.
Shoppers are more likely to discover new products when they browse aisles. People are more likely to hunt for specific brand names while making online purchases. Because of weak brand awareness, fewer customers seek out your organization, lowering revenue. The problem is exacerbated by the fact that brands are more competitive than ever before.
As a result, what can brand marketers do? In this article, we'll look at how to improve your brand awareness through successful campaigns.
Create a persona quiz to strengthen your brand
Create a complete persona-based survey to help you uncover and organize your prospects based on their distinct characteristics, needs, and features. Use it to find highly focused marketing possibilities, the specific content and keyword phrases that your target audience uses, and the previously unknown product features and benefits that must form the foundation of your whole marketing campaign.
Your brand flourishes because the people who own it are your consumers. Customers will pay attention if you devote a significant percentage of your marketing budget to addressing and demonstrating that you understand their primary concerns. This popular strategy supports you in defining your marketing objectives and includes popular quizzes to increase participation.
Create a lead profiling questionnaire that may be used as a covert tool to identify the most likely points of interaction between your brand and your target market.
You might wonder why it is so hard to understand your consumers. Well, the answer is easy: because you never asked them. Ask them questions, and they will answer.
Boost your brand awareness with social causes responses
Create a video or content that promotes your firm while praising a worthy cause. Keep in mind that the bar is continuously rising if you want to include social concerns in your marketing. If you get it wrong, your social cause advertising may flop, much like Pepsi's Kylie Jenner campaign. If you complete the tasks successfully, you will become Heineken.
It works because our identities become organically tied to corporations, religious organizations, sports teams, and other "super ingroups" over time. Despite the fact that both Heineken and Pepsi are effective in doing so, only Heineken is able to access and appeal to the part of our brain where the values of these ingroups coincide.
Spare your time going through the social media postings of a sample of your target demographic to begin your research on social problems that your firm may support. Consider employing high-end social listening technologies like Brandwatch, which can track millions of online conversations in real-time, to expedite the process. There are various ways to keep track of what people are talking about online, such as the most popular links they've posted, who they're following, and so on.
Find out what issues and causes your consumers are passionate about as a good place to start. You must combine your brand's fundamental principles with this critical information to develop a strategy that respects the ideas of your community while also enriching, fascinating, or educating them.
Engage more audiences with imagery
Although the video is a valuable strategic instrument from our perspective, for your successful brand awareness, it is not the only one. Using imagery that corresponds to the thoughts and effects conveyed by your brand can help to strengthen its identification and familiarity.
According to Dr. Susan Weinschenk, developer of Team W, consumers appraise your brand in less than a second based on the design and pictures you utilize. While our responses to visual stimuli are practically instantaneous, reading and comprehending text takes time.
There are several new options for integrating high-quality photographs into your website. Don't be concerned if you lack graphic design expertise. Using graphics applications such as Snappa, Pikiz, or Canva may aid in the creation of high-quality material. You'll be surprised at how quickly you can create visually appealing content with these tools and platforms.
Repurpose your older content
Create a list of your most helpful social media material, then evaluate it. What website visitors enjoy, share, and prefer. Posts that have stood the test of time may be reprinted in the future. Include this in your social media plan to increase visibility and save time.
When a brand is discussed frequently and widely, it is more likely to be recognized. If you have a large readership, you will have a large audience and will be able to publish on a regular basis. People are more likely to remember your name if your greatest work is featured more frequently.
The greatest social media content is chosen and structured ahead of time. When making your greatest social media posts, copy and paste your best work into a spreadsheet, or use particular software to automate and save time. If you want to boost traffic, you must strengthen your social media presence.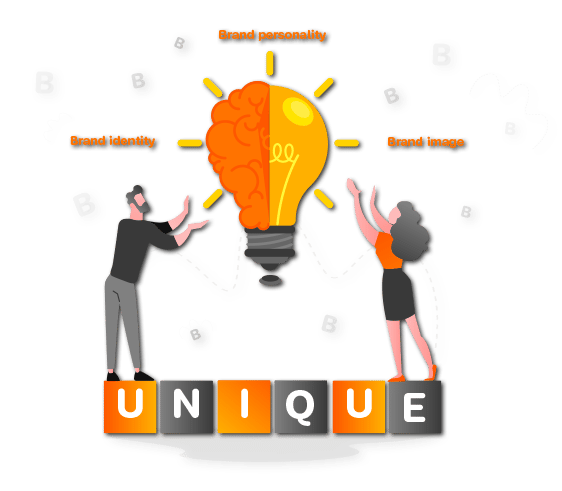 Find your brand's unique points
Building a unique brand identity goes a long way toward creating brand awareness that translates into action. You might choose a quirky and fun brand image if that is what you think your target market wants and you work in an industry where an extra dose of comedy does well or helps you stand out from the competition.
Brand awareness, brand identity, brand image, and brand personality are intimately tied together, and transmitting these factors to potential buyers is the real goal of building brand awareness, not just increasing reach. In building a cogent brand image across multiple platforms, you must increase the number of touches (exposures to the brand) through integrated marketing communications.
Don't forget the offline marketing as well
Business cards may help promote internet brands. The Options abound. One of the finest strategies to advertise a small business is to gain local clients before expanding through word-of-mouth and social media.
Consider brand partnerships, to enhance your brand awareness
Brand alliances may boost local brand awareness. This technique involves working with a local firm, school, or sports team to help a charity. You may donate money, supplies, clothing, or a venue to their event. They'll advertise your business's support. Use banners, advertisements, or the event's title to promote your business.
Professional sports teams have formed substantial brand ties. For instance, Lincoln Financial Group sponsors the Philadelphia Eagles' home stadium. The contemporary field helps the team, while the stadium's name promotes Lincoln. Your company can do the same thing, but on a smaller scale at first.
Successful Brand awareness, Tell your stories
Building strong relationships with current and future customers is key to long-lasting branding. But there's one gap to find to make them stick with your brand. People will love your brand if you tell an interesting story. This account may be highlighted in local media, integrated into your business, or promoted. Discuss your background and business's beginnings. Or, perhaps, talk about the history of your brand. Your stories can inspire a lot of people.
Guest posting
Guest posting has several benefits associated with brand awareness. It promotes your efforts. Unexpected areas will also carry your brand. This page might connect to your website. Brand awareness and SEO have been inseparable, especially if you strive for an online and offline audience combination.
If you want your blog to flourish, give high-quality material. If you lack writing abilities, hire a professional so that the content is worth guest posting. No blog posts should read like ads. If your viewers think you're selling anything, they'll be less likely to share your material. By providing the material that displays your expertise, you may convince consumers to buy from your company.
Connect your offers with the right target
Find firms that your target market likes and include them in your product. These categories should be included in social media and content marketing campaigns. In order to extend your audience and promote good customer perceptions, invite representatives from both firms to a combined brand session.
You might remember the personality test. Inquire about the audience's favorite band, movie, or piece of music. After a few individuals have completed your survey, choose a brand that complements your own.
The idea is to say or do something that no one else is likely to say or do. In this case, candor may be beneficial, but it is critical to seek various viewpoints on a statement before making one to ensure that it supports business standards.
Consider reaping the native advertising advantages
An advertiser must pay or persuade a third party to post supporting brand material on the third party's website in order to qualify as "native." This inventory is increased through the usage of sponsored advertising. Although it may appear paradoxical to drive clients to other websites and services, doing so boosts customer satisfaction and favorability.
If you want to get the right targets, filter out advertisements. In this approach, we judge if a brand's claim is true. When advertising claims and concepts are woven into entertaining or instructional material, we are more likely to trust them. The same thing will go for your audience as well.
Pay-to-play options and the opportunity to locate an editor and a narrative standpoint that acts as both contents for the destination and top-of-funnel advertising for your business are the two methods to get published in a well-known third-party content destination.
By getting help from professional advertisers, your brand's message will appear on high-quality websites. After considering the buying approach, you may choose to enhance the size of your possessions.
Your team can be your brand ambassador
On LinkedIn and Instagram, we are more interested in following individuals than companies.
However, real-world content offers a lot of promise. There are several advantages to teaching your company how to utilize LinkedIn and other social media. Increase the exposure of your brand anytime someone comments or shares material on a profile with your branding.
The possibilities are almost endless. Who knows, your employees can be your real ambassadors because they are using your products.
Offer freebies
People love receiving free things, and marketers are well aware of that (there is even a term Giveaway Marketing). This means that your brand might benefit from giving away some stuff that could be useful for your target audience.
For example, if you launch a free giveaway that costs around $100 or even less, hundreds and potentially thousands of people could show interest. To increase your chances of success with this strategy, you must remember that the stuff you're about to give away must be useful for the people you target; something that could help them in their business, maybe?
Social commenting
Not unlike tagging, people receive notifications in real time for social comments.
Let's be honest: most social comments aren't exactly compelling. This spells good news for brands who are willing to put a bit more thought into comments beyond "Nice! or "Cool!"
Creative commenting on social threads is a great way to stand out from the crowd. Posting creative or thoughtful comments is a great way to break through such noise. It's also another opportunity to show off your brand's personality to potential followers. When people aspire to your comment, they will also remember your brand.
Repurpose your older content
If you're like most marketers, you're probably trying to boost brand awareness across multiple networks, right? In that case, it's important to repurpose your content to fit in with the best practices of each platform. After all, what works best on Instagram might not be prime for Facebook or Twitter.
For example, let's say you publish a killer case study. Rather than post a mere link, taking the time to package it into an infographic is a surefire way to score shares and links alike. As such, one-size-fits-all content and captions aren't going to win your brand much attention. To keep your feed from growing stale, you should always have new social media ideas on the back burner to keep your feed fresh.
Strengthen your brand voice
Building brands requires consistency. There are various methods to express oneself without utilizing color and logos. Even if some of your brands are hidden, you want to be recognized. You may distinguish yourself from the throng by utilizing your voice and a catchy remark.
Ensure your brand's voice is heard in each campaign. First, know how to establish your brand's voice. This is how you communicate, explain, and sell. Using a different voice on each social media platform makes you untrustworthy. If you preserve your voice, your posts will sound like a genuine person, not a company.
Make the most out of influencer marketing
The public always appreciates expert counsel. Depending on the influencer's following, you may be able to market your company for very little money.
Even in today's world, minor details can have a significant influence. It all comes down to your product's profit margin and the impact of your brand's influencers. According to one survey, customers between the ages of 18 and 34 were 61% more likely to buy anything after hearing a suggestion from an influencer.
As a way to appreciate these influencers, you may consider creating your own affiliate scheme. This may be used to evaluate the success of influencer marketing. Influencers exist in your market.
Distribute the words about your branding at any medium
Even if you've never purchased anything from Amazon before, you'll know the brand from the packaging straight away. If you're mailing the package, you should label it. Small differences make a big difference.
This method is excellent for firms that only operate online. All client touchpoints, including email signatures, Thank You pages, and other correspondence, should include your firm name. Put your brand in every part of your product and services.