Optimized content is simple to read and comprehend for both humans and search engines. This is what distinguishes it. When information is optimized, its quality improves, and search engines locate it more easily. Google and other search engines will not give you the desired results if your material is not optimized for search engines.
Because Google's algorithm changes so frequently and so much material is created, publishers are facing increasing pressure to provide high-quality, SEO-friendly content.
What is Content Optimization?
Content optimization increases the number of individuals who read what you publish.
Technical repairs, link building, copy updates, UX modifications, and search engine optimization are all part of content optimization. Optimizing your website's content increases its visibility for more search phrases, keeps your audience engaged, and generates more leads.
Why do you need content optimization?
SEO is a constantly evolving field. No matter how much SEO has progressed, the content remains the most critical factor.
Content production and search engine optimization go hand in hand. People who put inquiries into search engines receive the most relevant results. Whether a blog post, a video, or a product description appears on the first page of Google results, it is content.
Content and search engine optimization are inextricably linked in ways that may take some time to grasp. This article demonstrates how businesses may use content to boost their SEO.
Optimizing your content is critical since it is the first thing visitors view when they arrive at your website. If your material is not optimized, it will not reach the intended audience.
Customers will discover you if your website, social media pages, and other information are kept up to date.
Here are the definitive perks of optimized content:
SEO optimized content tips
SEO is primarily concerned with making your content more search engine friendly. Choose a term that you believe people will use to discover your online content and repeat it several times. Google will notice the keywords you employ on your website and will utilize them (at least partially) to determine where your page ranks in a search. Your material may or may not appear on the first page of Google search results, depending on how Google ranks it.
When it comes to search engine optimization, not all keywords are created equal. Don't just put any words together if you want to obtain a good score. Given the level of competition, it is critical to conduct thorough study. It's likely that not everyone uses the same set of search phrases. If "startups" is the preferred term, the phrase "early stage enterprises" appears out of place.
Content optimization is a cooperative endeavor that demands collaboration. The Google AdWords Keyword Tool is completely free to use. You may learn how popular a certain search phrase is and how much money other websites are ready to pay to promote on the target website via sponsored links. You can select a keyword from the list offered by Google Keyword Tool (https://ads.google.com/intl/id_id/home/tools/keyword-planner/).
After selecting your keyword, you are going to need to place it in these:
The heading of your article
Your first paragraph's opening phrase
A minimum of one header within the text
The website's URL
The page's meta description
The image's alternate text field, if there is one
Use the term just enough to get the attention of search engines, but not too much. According to industry experts, the ideal keyword density range is between 1% and 3%. This item has a keyword density of 1.23 percent.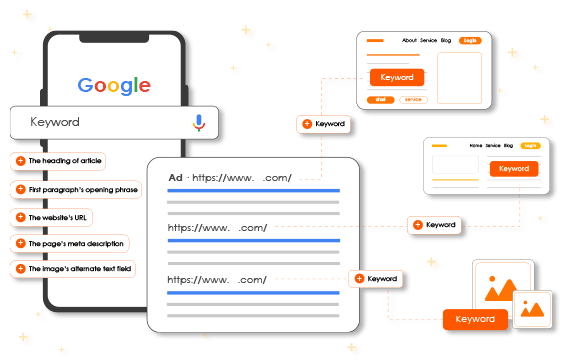 Readable content optimization
In today's digital world, it's critical to have both specialized and fascinating material. Readability is a vital aspect of effective writing that is sometimes underestimated. Your wit will not improve if your work is difficult to read.
We believe whatever we read in books and periodicals. An effort to distill the book's core principles Most of us are simply browsing the site's material to see if there is anything of interest.
According to a research conducted by the Norman Nielsen Group, just 20-28% of the material on a website gets read. Right?
We've compiled some recommendations to make your content simpler to read and engage your visitors so that they get the most out of what you write.
The Fonts types
Let's start with the most significant element of your paper. Previously, web browsers only allowed users to select from a limited choice of typefaces and sizes. Web designers may modify the appearance of text on their pages by using the font element and the web fonts that came with it.
What are your opinions on the subject? There may have been less good ways to design since there were no standard fonts. Creativity is sometimes sacrificed for readability.
So you need to pick a typeface, but how do you do it?
Because headlines are supposed to be read fast, they should be written in a different typeface than the body material. It is simpler to read and scan when both tiny and large letters are used.
Use sans serif fonts for lengthier pieces of writing since they are simpler to read. Serifs make writing more difficult to read on the web. Small serifs tend to run together on displays, making them difficult to read.
Arial, Helvetica, Trebuchet, Lucida Sans, and Verdana are examples of screen-friendly typefaces. After all, it was all for the benefit of the internet.
Pick the right font size
As a result, we must now ensure that our designs are compatible with a wide range of devices and screen sizes. Fixed-pixel font sizes may appear good on a desktop, but they are far too large for mobile screens. Font size is determined by a person's age, vision, and personal preference.
Some people insist on a set font size of 16 pixels, while others prefer to deal with percentages. The resolution and browser settings influence how percentages are shown in various ways. A digital gadget may make you feel more alone than a book. The ideal distance between a person's eyes and a computer screen is 28 inches.
Keep it short and dense
Despite our preference for longer lines on paper, the ideal length for a web line is between 50 and 60 characters. Customers may not return if they have to wait in line. Long lines make it difficult to focus and shift from one line to the next.
It is a great idea to offer each component its own introduction, which comprises a header, a subheader, and lines of information spaced to appear inviting. Even if the reader is aware that the entire material can be read in four minutes, they still find it enjoyable and simple to read.
Avoid too long paragraphs
Reading on a computer screen may take up to 25% longer than reading written information.
75% of website visitors just read the headlines and a fraction of the text. Instead, they look for the necessary skills. Given the multitude of choices, you must do something to retain people on your website.
Short paragraphs can be skimmed by the reader. They may proceed if no search terms are provided.
You could see great example from Neil Patel's blog posts. He made the paragraphs shorter so that his readers can read his posts easil
Emphasize your topic's points
Your writing's clarity may appear to be unimportant. When writing for massive content, it is easy to get off track. Perhaps you think that you want to provide something useful to our viewers in details.
But your audience might think differently. They require quick satisfaction. You must condense the blog if you want people to read it all. They don't need intermezzo, just give them the important points.
Ban the difficult jargon
This amazing habit comes after the previous one. Internet users have a high expectation of quickness when accessing important information.
Expertise is required for people to put their faith in you, but that does not mean you have to know everything. It's upside down. You will be perceived as a more educated expert if you can communicate the complexities of your industry to others. Rather than using coined words from your niche, explain them in easy language.
If visitors leave in terror, they will believe you do not want to communicate with them. There is no substitute for a human connection when it comes to trustworthiness and building long-term relationships with people.
Help your readers to navigate your content
You may use a variety of formatting options to make web reading as easy as possible for your audience.
To begin, highlight the keywords in each paragraph to help you find the primary concept. One word or phrase is enough for each paragraph.
Make use of lists to help you arrange your writing. Lists make it easier to navigate and highlight relationships between objects. Step-by-step enumerations may be quite useful for representing complex operations.
When you incorporate images, it is easier for the reader to focus on what you are saying. Add visuals to your material to keep people interested and engaged.
Optimized content that converts
Content optimization is critical to the success of any business. Both your search engine rankings and the quantity of customers who buy from you may benefit from optimization.
It's critical to remember that your strategy and tactics must be tailored to each occasion. SEO makes a website more visible in search engine results by employing certain keywords. Conversion optimization is the process of improving a website's ability to persuade users to do what you want them to do, such as fill out a contact form or purchase something.
It is also important to increase the number of visitors that visit your website. It does not function if the attractiveness does not result in conversions. If you want to assist others in making decisions, you must first understand their aims and ambitions. This section explains ways to make your content easier to convert.
For the sake of the audience
Putting oneself in your audience's shoes is the most effective method to connect with them. Be curious about? Why don't they do it already? Where do you believe the customer's relationship with them will begin? If you desire their support, give compelling answers to these questions.
To achieve these objectives, you need create a profile of your ideal consumer. Make careful to define any new terms and use terminology your audience will understand. Remember that marketing to businesses and marketing to consumers are not the same thing. Using ordinary language may put your audience at ease. This is critical for fabricating something from raw resources.
Tweak your Call-to-action
Consider the location and setting of your call to action. It's also crucial to consider where the consumer is in the purchasing cycle.
In your call to action, underline the importance of developing connections. The business is currently doing more study. For the time being, instead of attempting to sell products or services, concentrate on providing helpful information.
A customer's call to action (CTA) may influence the sale. Demos, trials, and e-books may all be distributed.
Another key aspect of conversion-optimized content is the smart placement of calls to action (CTAs). These should be complementary to the content and not detract from it. A consumer may be afraid of a salesman who is pushy or self-centered. Calls to action (CTAs) compel individuals to investigate an issue and devise a solution.
The most effective calls to action target the client's pain point and play on their emotions. This provides them with peace of mind. They must believe that you can answer their queries and provide a satisfactory solution. You may issue a call to action to your audience once you've gotten to know them.
Give substantial proof to demonstrate your authority without being apparent. Before you can convey essential arguments, you must first gain the trust of your audience.
Here are quick tips about ideal CTA:
Inform the reader clearly about their actions
Explain the advantages of performing particular actions
Utilize the urgent instructions such as "now", "today", "limited", etc.
Attract the attention of your audience
The most critical aspect of conversion-optimized content optimization is writing. Words have meaning.
Readers want well-written, relevant material in today's information-hungry society. Create information that is both entertaining and simple to grasp. AIDA can help you with your copywriting.
Use appropriate nouns and adjectives. Choose terms that your audience is familiar with and that are meaningful to them.
Images assist readers in focusing on the text and comprehending what it says. If the content is too difficult to grasp or not entertaining enough, you may lose a large portion of your audience. You must hold your readers' interest in order to boost the amount of individuals who buy your material.
Shorten your phrases and get to the point if you want to make your message obvious. Lists are an excellent method to present a large amount of information in a clear and straightforward manner. Comparison tables are a straightforward and enjoyable method to convey information to the reader. Because people's attention spans are limited, tables are an excellent approach to pique their curiosity.
Read some AIDA books to help you to understand the attractions principles.
Know your audience pain points
Your essay should be a key component of how you sell your brand. Conversion-focused content must address the audience's challenges.
In your writing, you are not attempting to sell something. Instead, it appears to be a business letter. Don't discuss what the product has to offer. Instead, concentrate on what the end user will get from it.
Make certain that what you write is truly distinctive. Wording that effectively communicates brand language avoids seeming like a sales pitch. When the writing seems like a discussion, people are more likely to buy. Don't use terms that seem too sophisticated. They're seeking answers, and you have them.
If you talk about your accomplishments but fail to provide a solution, you will lose respect. Give greater importance to what your target market wants rather than what your company wants. Grasp their interest and demonstrate how your firm may assist them.